Autumn is in the air, and Starbucks is rolling out the red carpet with the return of the legendary Pumpkin Spice Latte, celebrating its 20th iconic year.
Starting August 24th, dive into a fall fiesta with not just the PSL, but also the debut of the Iced Apple Crisp Oatmilk Shaken Espresso and Iced Pumpkin Cream Chai Tea Latte. And that's not all — the Baked Apple Croissant, Pumpkin Cream Cold Brew, Apple Crisp Oatmilk Macchiato, Pumpkin Cream Cheese Muffin, and the adorable Owl Cake Pop are all making a grand entrance.
Get ready to savor the season's best, but remember, these treats are here for a short time, vanishing with the autumn leaves.
Starbucks Fall Drinks
Without further ado, let us introduce you to the world that is Starbucks fall drinks. You won't want anything else to get you through the cozy season once you've found your favorite from our list of options.
Pumpkin Spice Latte
Starting off with the fall beverage to beat them all, the Pumpkin Spice Latte (also known as the iconic PSL) is one that perfectly depicts the fall season. With the yummy flavors of pumpkin and the delicious spices of cinnamon, nutmeg, and clove to complement it, you truly can't go wrong.
You can get this drink hot or iced, both are equally delicious. Either way, it's finished off with some whipped cream and the Pumpkin Spice Topping that makes it reminiscent of a pumpkin pie, a favorite fall treat!
Believe it or not, the Pumpkin Spice Latte has been around for 20+ years now, debuting in 2003.
So it's officially old enough to be called a "classic" as this point.
Iced Pumpkin Cream Chai Latte
Starbucks introduces the Iced Pumpkin Cream Chai Tea Latte to its official fall menu, a drink that once thrived as a secret menu favorite, born from innovative barista and customer customizations. This enticing latte marries the aromatic spices of chai with a velvety pumpkin cream cold foam, crowned with a sprinkle of pumpkin spice.
As highlighted by Starbucks' beverage developer Billy Altieri, this addition celebrates the inventive spirit of the Starbucks community, delivering an iced beverage that perfectly melds the comforting flavors of chai and pumpkin.
Pumpkin Cream Cold Brew
Another pumpkin beverage at Starbucks that has grown wildly popular since its introduction, maybe even more so than the PSL, is the Pumpkin Cream Cold Brew. It's hard to deny the tastiness of this drink considering everything involved in the making of it.
The Starbucks cold brew is first sweetened with vanilla syrup and then adorned with the heavenly Pumpkin Cream Cold Foam, featuring just a dash of Pumpkin Spice Topping at the finish. The flavors really work together here to create a creamy and tasty fall drink.
Pumpkin Spice Crème
If you want those pumpkin spice flavors sans coffee, you can always opt for the Pumpkin Spice Crème. This is made much like the PSL, only with steamed milk, pumpkin spice syrup, whipped cream, and the Pumpkin Spice Topping. No espresso is involved here!
Pumpkin Spice Frappuccino
Craving something a bit sweeter? The pumpkin flavor also has its moment in the Pumpkin Spice Frappuccino, which definitely doesn't lack in yummy goodness. Just like Starbucks' other blended coffee beverages, this drink is made with Frappuccino Roast, milk, and ice.
What makes this Frappuccino different is the cozy Pumpkin Spice Sauce mixed in and the Pumpkin Spice Topping dusted onto the whipped cream. Yet another delicious way to enjoy the fall pumpkin flavor.
Pumpkin Spice Crème Frappuccino
Just as there's a Crème version to the PSL, there's also a Pumpkin Spice Crème Frappuccino.
Embracing the essence of autumn, the Pumpkin Spice Crème Frappuccino combines pumpkin and traditional fall spices with milk and ice. Topped with whipped cream and a dash of pumpkin-pie spice, it's a favorite choice for those seeking the iconic Starbucks fall experience without the coffee undertones.
Pumpkin Hot Chocolate
This next pumpkin drink on our list isn't actually on the Starbucks menu, but it's super easy to order. You can get a simple hot chocolate, or even a white hot chocolate if that's what you prefer, and add in some of that irresistible Pumpkin Spice Sauce to really make it a special fall drink.
Apple Crisp Oatmilk Macchiato
Moving on from pumpkin to apple, Starbucks introduced the Apple Crisp Oatmilk Macchiato in 2021 and since then it has become another fall favorite. This blonde espresso-based beverage can be made iced or hot and includes the yummy Apple Brown Sugar Syrup.
Layered with the syrup is creamy oat milk and then the espresso shots. On top of it all, you get the special Spiced Apple Drizzle to tie it together.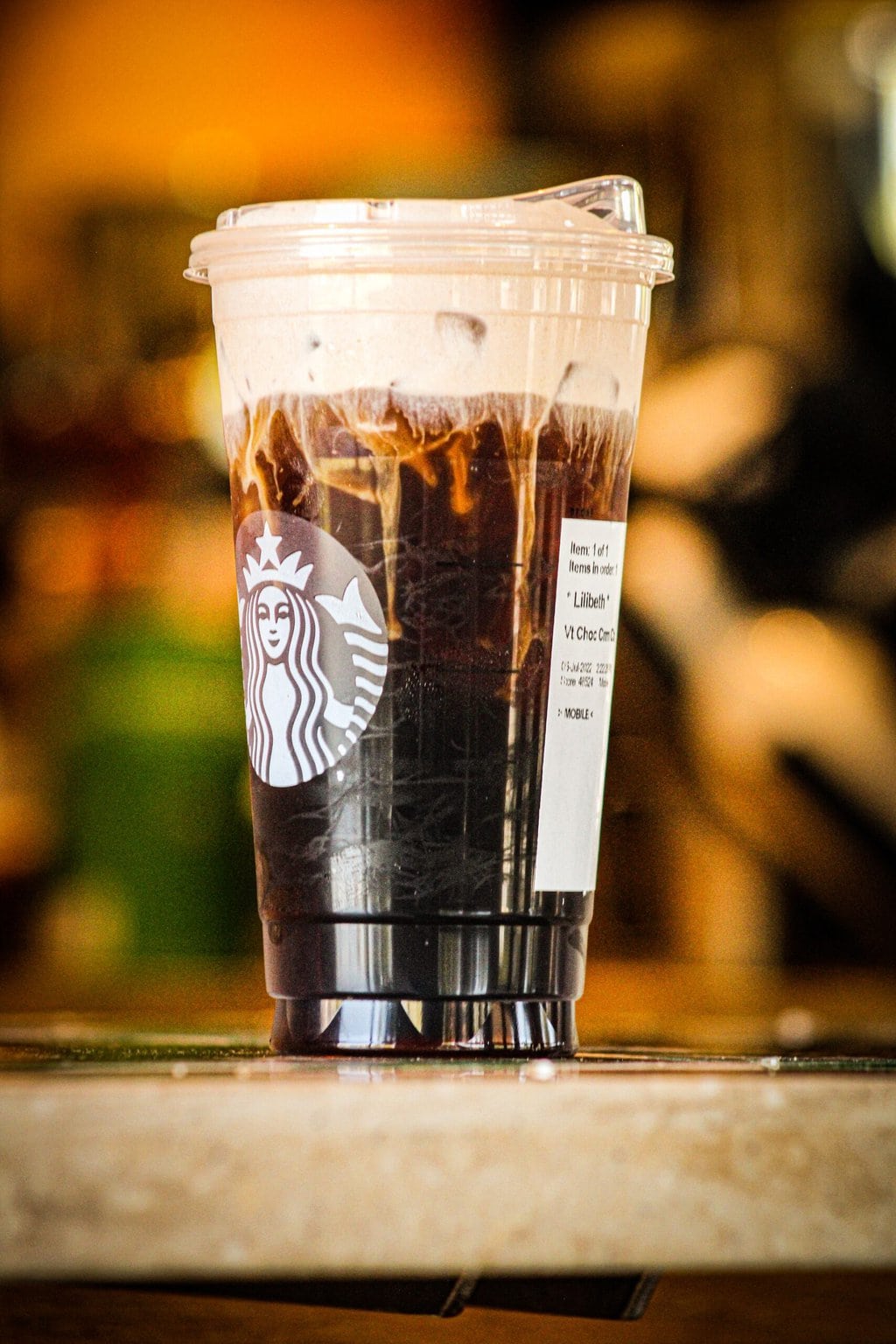 Apple Crisp Oatmilk Frappuccino
Take the yummy apple spices to the frozen treat section of the Starbucks menu and you have the Apple Crisp Oatmilk Frappuccino. This blended beverage is made with Apple Brown Sugar Syrup, oat milk, Frappuccino Roast, and ice.
Finish it off with some whipped cream and a nice layer of the Spiced Apple Drizzle and you have yourself a decadent drink.
Apple Crisp Oatmilk Crème Frappuccino
Want all the delicious flavors featured in the drinks above without the caffeine? You can choose to get the Apple Crisp Oatmilk Crème Frappuccino, which is made with oat milk, Apple Brown Sugar Syrup, a crème base, and ice. Blended together and served with whipped cream and Spiced Apple Drizzle, just like the regular one!
Apple Crisp Oatmilk Shaken Espresso
First debuted in 2023, this drink is a fall take on the shaken espresso trend.
It's a blend of Starbucks Blonde Espresso, apple, cinnamon, and brown sugar. Topped with oatmilk, this drink offers a harmonious balance of warmth and coziness, reminiscent of a classic apple crisp. As Starbucks' beverage developer Billy Altieri puts it, the creamy oatmilk beautifully accentuates the light roast flavors, making it a must-try this fall season.
Iced Apple Brown Sugar Oatmilk Chai Latte
The Apple Brown Sugar Oatmilk drinks seem to be a theme here, but this next one isn't actually on the Starbucks menu. The Iced Apple Brown Sugar Oatmilk Chai Latte is another fall customization that's actually a pretty good idea.
To get this drink, simply order an Iced Chai Latte and add some Apple Brown Sugar Syrup to the mix. Such a simple addition really adds to the already spiced flavors of the chai latte.
Caramel Apple Spice
These last few options are already on the menu and, not only that, but they're actually available to order any time of the year. We just had to mention them since they fit so perfectly into the fall season!
The Caramel Apple Spice is a commonly looked-over drink that's made with Cinnamon Dolce Syrup, steamed apple juice, whipped cream, and caramel sauce drizzled on top. A perfect choice for a sweet, warm, and cozy treat.
Cinnamon Dolce Latte
Speaking of Cinnamon Dolce, the Cinnamon Dolce Latte is also a great beverage to order during the fall. A traditional latte, which can be ordered iced or hot, is amped up with delicious Cinnamon Dolce Syrup, whipped cream, and Cinnamon Dolce Sprinkles.
Perfectly warm and spiced for the traditional fall flavors. Of course, the other great thing about this drink is it can be ordered whenever you're craving those fall memories.
Chai Tea Latte
Last on our list is a simple but effective Chai Tea Latte. When it comes to fall, there's no such thing as too many spices. Iced or hot, getting a chai will give you all of the yummy spiced flavor, fall or not.
The Starbucks Chai Tea Latte is made with a chai concentrate that features black tea, cinnamon, and clove. Pair that with some milk and you got a tasty everyday drink.
Starbucks Fall Syrups & Sauces
Besides the drink menu, let's look at all the ingredients that are only available during the fall months at Starbucks. These specialty additions are what truly make your favorite coffee beverage warm and cozy.
Pumpkin Spice Sauce
It's not Pumpkin Spice Season without the most important ingredient. The Pumpkin Spice Sauce at Starbucks is what makes a lot of their fall beverages special. It's full of all the yummy spices that make up the fan-favorite flavor and is a perfect addition to many drinks.
Pumpkin Cream Cold Foam
One of the things that the Pumpkin Spice Sauce is used in is the Pumpkin Cream Cold Foam. This specialty foam is a big part of some pretty tasty Starbucks fall drinks. The combination of the Sweet Cream Cold Foam and the pumpkin sauce is not one to pass up.
Pumpkin Spice Topping
You simply can't have a pumpkin-spiced fall beverage without the iconic Pumpkin Spice Topping to dust on. A little extra spice never hurt anybody, especially in a treat this yummy!
Apple Brown Sugar Syrup
One of Starbucks' newer fall drink collections includes the scrumptious ingredient of Apple Brown Sugar Syrup. This sweetener is all you need to get into the apple-picking season and all of the deliciousness it has to offer.
Spiced Apple Drizzle
Accompanying the Apple Brown Sugar Syrup is the special Spiced Apple Drizzle. Much like the caramel drizzle, this sweet and tasty topping is the perfect addition to Starbucks' fall drinks that lean on the apple side rather than the pumpkin.
Frequently Asked Questions
While you might be eager to run off to your nearest Starbucks and order one of these delicious drinks, fall isn't quite here yet. So, we've answered a few more questions that you might be asking to pass the time.
What is the Most Popular Starbucks Fall Drink?
The most popular Starbucks drink, hands down, has to be the Pumpkin Spice Latte. I mean, the season didn't get its alternate name, Pumpkin Spice Season, for no reason! This drink is iconic and has been for years.
Does Starbucks Have a Fall Blend?
Yes! The Fall Blend coffee at Starbucks is full of fall spices and toasted chestnut. It's a medium roast that you can purchase either ground or in K-Cup pods. This full-bodied coffee contains a blend of beans from Sumatra, Africa, and Latin America.
Does Starbucks Have a Fall Frappuccino?
Just like any other season, Starbucks releases fall-flavored Frappuccinos, as well. This is for those frozen drink fanatics who simply can't wait to taste the fall spices in a truly tasty treat.
As we mentioned in our list, you have the option to get the Pumpkin Spice Frappuccino, Pumpkin Spice Crème Frappuccino, Apple Brown Sugar Oatmilk Frappuccino, and Apple Brown Sugar Crème Frappuccino during the fall season.
What Day Does Starbucks Fall Menu Start?
You'll be happy to know that Starbucks is as eager as you are to get those tasty fall drinks out. That's why they usually release their seasonal fall menu right around the last week of August.
So, once they're out, make sure you get as much of your favorite drink as possible before they begin to release drinks for the winter season!
What is the best fall drink at Starbucks without coffee?
One of the most popular fall drinks at Starbucks without coffee is the "Pumpkin Spice Crème Frappuccino." It's a creamy, blended beverage that captures the essence of fall with flavors of pumpkin, cinnamon, nutmeg, and clove. It's essentially the coffee-free version of the iconic Pumpkin Spice Latte, making it perfect for those who want the autumnal flavors without the caffeine.
Another option is the Pumpkin Hot Chocolate, which, as it sounds, is just a boost of some seasonal pumpkin flavor into a traditional hot chocolate.
Falling For Fall
Now that you have your handy list of fall drink options at Starbucks, you can be ready for the menu to drop. Whether you simply can't resist a classic PSL or you're a fan of apples and spices, Starbucks has all the fall flavors you need for the season.
Plus, with the variety of fall ingredients they offer, you can even craft your own creation just as easily. Some of the best ones on our list are actually customer creations!
Happy Caffeinating!