We've been unboxing and testing a ton of coffee subscription boxes lately. With the help of award-winning barista Austin Childress, we're breaking down what we've found in our guide to the best coffee subscription.
Quick Summary: Best Coffee Subscription Boxes
A weekly or monthly coffee subscription is a great way to bring some delight to your morning cup of coffee and help you expand your coffee palate. Plus, coffee subscriptions make great gifts – perfect for the coffee connoisseur in your life that already has everything.
In our list of the best coffee subscriptions below, we've got a mix of both single and multiple roaster subscriptions. Plus, we work hard to secure exclusive coupons for you, the Roasty reader – so check out some of our favorite coffee subscriptions below:
Atlas is on a mission to help you explore coffee from around the world. Each month they highlight and deliver coffee from a new country that's been hand selected and prepared to match a flavor profile of its country of origin.
Above is a photo from the AMAZING free coffee sample box they sent us from Burundi! In fact, pulled this coffee out recently at a birthday party and brewed some for dessert. It was an absolute hit with our guests.
I've sampled coffees from various countries through Atlas and the freshness and taste are always top notch.
Every shipment comes with a fun postcard as well as an informative card explaining more about the beans and a suggested brewing method. By the way, if cool packaging and thoughtful presentation matter to you – Atlas Coffee Club nails it.
Read our complete Atlas Coffee Club review or watch our video review on YouTube.
(Spoiler Alert: Forbes said Atlas "will impress the most discriminating coffee critics" and we tend to agree…)
Trade Coffee prides itself on matching you up with the best coffee for your preferences. Trade may be the best coffee subscription box for people who want to discover some of the best roasters from around the country.
They've matched over 2,000,000 people with the right coffee so far, so it's safe to say they've got it down to a science. Here's a quick look at the process:
Take the quiz – Tell us how you make your coffee, it'll only take a minute!
Get matched – We'll determine your taste type and match you with the first coffee of many you'll be sure to love.
Rate it – We'll get to know your preferences and provide increasingly delightful matches each time.
Enjoy – Get a new bag as often as you need it. You'll never run out, and you never need to have the same thing twice (unless you want to!).
The folks at Trade sent me a couple of free sample bags and the presentation and freshness of both coffees were excellent!
To see more photos, see our Trade Coffee Review here or watch our YouTube unboxing.
Bean Box was founded in 2014 by two entrepreneurs in Seattle who, after living and working
together in Seattle's tech scene for over a decade, wanted to share the joy of small-batch, locally-roasted beans with coffee lovers around the country.
Initially, their entire business was shipping coffee that was solely from Seattle & Portland roasters.
Now, Bean Box is curating coffee from the finest roasters across the country.
Bean Box has one offering we particularly like, which is the coffee tasting subscription. This will give you a sample size of 4 different coffees each month (each bag makes 4 – 6 cups) so you can try tons of variety every month.
If you love tasting new coffees or just really aren't sure what kind of coffee you like best – a subscription like this is probably your best bet.
Check out our full review of Bean Box.
Coffee consumers who take a special interest in the ethics and values of the companies they support will definitely want to check out Peace Coffee!
This Minneapolis-based company was formed in partnership with the Institute for Agriculture and Trade Policy, a nonprofit dedicated to supporting farmers here and abroad.
The company is now independently owned, but is still just as dedicated as ever to fair trade practices, supporting small coffee farmers, and organic, earth-friendly growing practices.
Your Peace Coffee subscription will ship from Minnesota, where the beans are roasted in downtown Minneapolis.
Coffee subscriptions from Peace Coffee are simple and customizable. All you have to do is select a delivery frequency from every two weeks up to every three months, choose the coffees you'd like to be included in your subscription and place the order!
Any of Peace Coffee's coffee offerings can be ordered on a subscription basis, including their 12 oz bags, 5 lb bags, and boxes of single-serve Steeped Coffee (think a tea bag for instant coffee).
There is also a seasonal subscription available, which rotates through blends selected and developed by the roasters to suit the current season.
We recently got a chance to try out some of Peace Coffee's offerings, and we were impressed! Check out our Peace Coffee Review to hear more about what we thought.
If you love supporting small businesses, this is the roaster for you. Run by a husband and wife duo, Driftaway is all about accommodating your personal coffee tastes. The first time you order from Driftaway, you'll receive four different samples delivered straight to your doorstep.
Driftaway also does something pretty unique in the space by leading a weekly "virtual tasting" on Zoom with a legit World Brewer's Champion.
The benefit to this is that you'll get to see how experts taste and evaluate coffees by sampling the different coffees they've sent you, which makes you a more informed coffee consumer.
Once you choose the one you like the best, you'll start your regular subscription and the coffee of your choice will be delivered to your doorstep every two weeks.
If you're thinking about gifting coffee, Driftaway does offer a slick personalization where they'll print a name on the bag of coffee as you see in the picture above.
Read our full Driftaway Coffee Review or watch our unboxing on YouTube
If someone asks you what kind of coffee you like best, how do you answer them? For example, if a barista asks if you prefer light roast or dark roast and the first thing you say is and confused-sounding "uhhh…"
Then Angels' Cup is here to help you figure out which types of coffee you actually like best.
The truth is, many casual coffee drinkers may have no idea what roasts and tasting notes they prefer.
That's where the Angels' Cup Black Box subscription comes in.
They remove all potential bias by sending you a box of numbered coffee samples and letting you do a blind taste test. Then, you can use their app to record your preferences and even try to call out the different tasting notes you experienced.
The "coffee tasting experts" will enjoy the fact that you can compare your answers with what the roast master has to say about each coffee.
Hints of strawberry you say? Let's find out…
Angels' Cup sent us some free samples of The Black Box and their "All-Stars" subscription, which delivers some of their most popular coffees directly from the roaster to your door.
If you're looking for a little more unique & fun experience, we'd recommend trying The Black Box.
Take a look at our full review here or watch our video review on Youtube.
Yes PLZ is on a mission to deliver well-roasted, aromatic coffee from their roaster in Los Angeles across the United States and straight to your front door.
So how do you begin a subscription with Yes PLZ? All you need to do is choose how much coffee you want and how often you want to receive it. Through this method, the pressure of choosing which roast you think you want to receive and when is removed because Yes PLZ makes the choice for you–choosing the roasting levels and the notes of flavor as well.
As you'll read in our full review, we are big fans of the Yes PLZ packaging. For starters, the bag is sealed extremely well, and your coffee comes with a helpful description of the roast, including everything we needed to know about where the beans are sourced from, how they are roasted, and the notes of flavor to expect after brewing.
I only recently learned about Purity Coffee when they got in touch with me to see if I wanted to try some free coffee.
Spoiler alert: I basically never turn down free coffee.
I tried both the dark and regular roasts, and absolutely loved them. I guess I'd best describe it as just a simple, beautifully smooth coffee. No real flavor notes to speak of, just one of those coffees where you take a sip and say "that's good coffee."
Since I liked it, I dug in a bit more to learn about their process and learned that Purity is SERIOUS about sending you the healthiest coffee possible.
They start with certified organic specialty grade coffee, which is a standard achieved by less than 1% of the coffee produced worldwide.
They then lab test each batch to make sure it meets their strict criteria for high antioxidant levels, no mold or mycotoxins, and "near zero defects".
The coffee is then roasted to maximize the amount of antioxidants retained in the coffee while also avoiding the harmful compounds which can develop during the roasting process.
The result is an exceptional cup of joe that we're happy to recommend to our Roasty readers. See our coupon below and click the "get started" link to learn more about the high standards of Purity Coffee.
Save 20% On Your First Box
– use code "ROASTY20" at checkout for a subscription or one time purchase.
Click here to get started
12. BEAN AND BEAN
Bean & Bean Coffee Roasters was founded by a mother-daughter team in 2008, with the goal of making a difference for women in the coffee industry. The company now has four brick-and-mortar locations, including a roastery in Queens, and over half of the company's coffee is female-powered.
We partnered with a local barista in Cincinnati to test out their most popular coffees. Our personal favorite was their Downtown Blend, with a rich espresso shot packed with nutty and woodsy cedar flavor notes.
It's a medium roast and is their signature House Blend. The coffee is a blend of beans from three different parts of the world which lends its unique flavor characteristics to the brew.
The 3, 6, and 12 month coffee subscription options let you be surprised by what they send – if you want a variety of their single origin and blends. Or, you can pick a favorite and simply put that coffee on auto pilot.
Ready to try it for yourself? Click here to get started.
This famous roaster is trying to change the game of specialty coffee. Blue Bottle's subscription is all about customization and gives you full control over your coffee choices.
As a part of their subscription, you can choose what coffee you want and how much of it you want. You can select a half bag, single bag, double bag or even a triple bag and have it delivered every week, two weeks, three weeks, or once a month.
If you want full control over what you get and how often you get it, Blue Bottle is the way to go.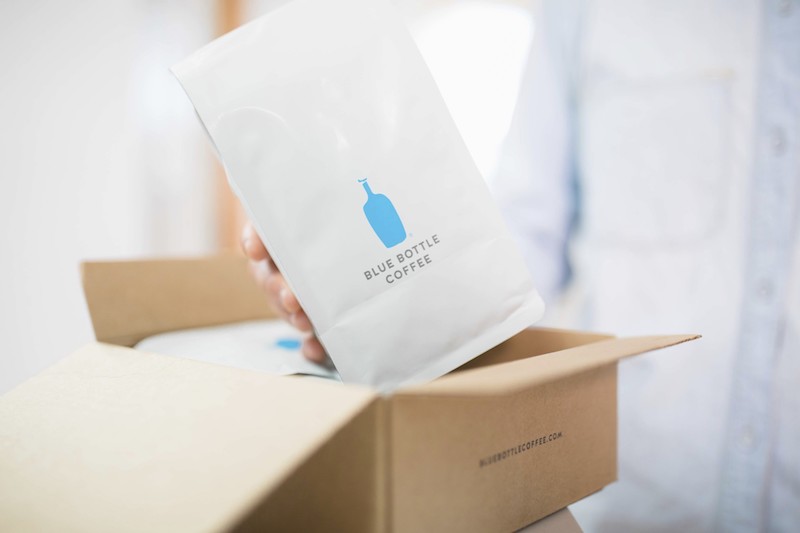 Justin Carabello runs his coffee operation out of Newport, KY, near my hometown of Cincinnati, OH. When I heard about their story of wanting to be a philanthropic coffee roaster that gives back to the countries where they source beans, I wanted to learn more.
I sat down in their amazing coffee shop and met Justin and his team, and decided to partner up with them on a different subscription plan. The beans are roasted in their shop and shipped straight to your door – and I can attest firsthand to how incredible the coffee is. Click here to learn more about their story and try Carabello Coffee for yourself.
Get One Month Free
When you buy a full year of the Roasty Coffee of the Month Club and use coupon code "ROASTY" at checkout.
Click here to check it out
.
How We Pick The Best Coffee Subscription Box?
The best coffee subscriptions have three things in common:
The coffee beans are freshly roasted and delivered fresh to your door. That means they're vacuumed-sealed or protected in some way to lock in the flavor until they reach your doorstep.
Your coffee subscription delivers you a variety of coffee, letting you sample different types of coffee roasts and regions of coffee beans.
Your coffee subscription allows you to customize when it will be delivered to your door so you can make sure you never run low.
You've probably heard of a lot of different companies offering monthly coffee subscriptions (or even weekly or bi-weekly). Many subscriptions let you try a sample of their coffee before you commit to regular delivery. And if you do end up subscribing, you can usually cancel at any time and modify the frequency of when they deliver your coffee.
Thanks to the wonderful conveniences of online shopping, once you start regularly receiving your online coffee subscription, it's hard to imagine life without coffee delivered instantly to your doorstep. So the challenge becomes selecting the right company and subscription that fits your tastes. Luckily, we put together a list of our favorite coffee subscription services that'll be sure to help you spice up your daily coffee routine.
NOTE: If you're going to be high-quality coffee delivered to your door, you'll want a high-quality automatic or manual burr grinder that'll do justice to those fresh coffee beans.
The Case For "Mail Order Coffee"
Obviously, at this point, we're all comfortable with getting virtually everything delivered. But is getting coffee by mail a good idea?
I'm not going to judge you if you're ordering coffee from Amazon, but the problem with this idea is the same as when you buy from most grocery stores – you have no idea when that coffee was roasted.
Fresher is better in just about everything, and coffee is no exception.
So who knows how long that national brand of coffee has been sitting in an Amazon fulfillment center before they ship it out to?
The top coffee subscriptions in our list are the cure for this problem.
They understand roast date matters, so they've designed systems to roast coffee and then mail it out as soon as possible after that. We've receive some coffee in the mail that was roasted 48 hours ago.
The takeaway here is that not all coffee delivered by mail is created equal, and doing a reputable subscription is going to give you superior coffee compared to randomly buying coffee from the Amazons and Walmarts of the world.
Is a Coffee Subscription Worth It?
Honestly, it depends.
You're not really saving money in most cases by doing a coffee subscription. So it's not like a "subscribe and save" situation you'd see with an Amazon product.
However, you are getting to try coffees that are often hard to find. Like we mentioned in our section about Atlas Coffee Club's world tour they sometimes source coffees from farms that have literally never been sold in the USA before.
So you're not exactly going to find those coffees at your local grocery store.
Similarly with other services like Trade, Mistobox and others you're getting the benefit of inputting your preferences and having a match making service send you coffee that you're probably going to like.
The benefit here is that you're likely to discover coffee from some independent roaster that you would have never tried if not for a coffee subscription.
I'd say if you're trying to buy cheap coffee – you probably don't need a subscription. However, if you're willing to pay for better coffee and love expanding your palette – then a subscription will certainly help you get out of the routine of buying the same coffee over and over again.
How much does a coffee subscription cost?
This varies, of course – but I'd say the average is about $20 per month.
This is assuming you're getting one bag of coffee per month. Most services give you the option of getting multiple bags, or having coffee delivered more frequently – which will cost you some more.
The good news is, some of these services offer amazing incentives and discounts for new customers. So generally speaking, you can try it for a month or two and cancel if it's not right for you.
Check out Trade Coffee's current discount here and get an extra free bag of coffee from Atlas Coffe here if you want to save some money on our top subscriptions.
Is a coffee subscription a good gift?
You better believe it is.
If someone on your list likes coffee, they'll love a coffee subscription as a gift because they'll actually use it, and they'll likely be trying coffees they've never had before – which is always exciting for people who enjoy coffee.
Plus, gifting a subscription usually means that they will be getting coffee in the mail monthly for 3, 6, or 12 months – so it's truly a gift that keeps on giving.
I speak from experience here – I've given coffee subscriptions as gifts several times to family members and it's always a hit.
Here's our full list of gift ideas for coffee lovers if you need them.
Can You Get An Espresso Coffee Subscription?
The short answer is yes.
However, not every subscription in our list is set up the same way.
Some are more about coffee discovery, whether that be trying coffee from around the world or trying unmarked coffees of various roasts and origins to let you hone your coffee pallette.
That said, others (like Trade, MistoBox, etc.) will let you fill out a quiz and ultimately take full control over what you want to order – even if it's a specific coffee, or in this case if you only want espresso beans getting delivered.
Coffee From Around The World Subscription
Atlas Coffee Club has essentially built its business around this kind of subscription – a world tour of coffee. The idea is simple: each month you get a coffee from a different country, roasted to order, so you can discover the different flavors from around the globe.
Perhaps since Atlas was so successful doing this, other coffee subscription services have added an option for something similar. For example, Peet's Coffee now offers an "Experience the World" subscription that's a very similar concept.
If you're into a little bit of adventure, doing a coffee world tour really can be a lot of fun.
Local Coffee Subscriptions
If you're making an effort to "buy local" and are wondering if there's a local roaster with a subscription near you, the answer is probably "yes."
In the list above, we partnered with a local shop in Kentucky to offer a Roasty subscription and I know several other roasters in our area that offer a subscription via their website where they'll ship around the country.
The odds are, if you're in a decent-sized metro area, your favorite local shop may offer the same if you check their website.
If they don't, another way to support local coffee roasters via subscription is through a service like Trade Coffee which curates coffees from hundreds of small, local roasters across the United States and ships them to your door.
The advantage to doing a subscription like Trade or Mistobox that features tons of local coffee roasters is that you can get a greater variety in time, trying roasters in your city/state and occasionally mixing in coffees from other local shops on the other side of the country.
Can You Get Weekly Coffee Subscriptions?
Not everyone offers a weekly option, but some of the services on our list do let you set the frequency to weekly.
One of our favorite weekly coffee subscriptions is Bean Box which gives you the choice of bi-weekly, monthly, or weekly when you're setting up your first order.
The most commonly offered schedule for a coffee subscription is a monthly delivery.
Inside of that, even subscriptions that offer monthly deliveries will let you customize your amount – so maybe you order 2 bags instead of one to tide you over until next month.
What About Coffee Subscriptions Outside The USA?
I get reminded by our email subscribers when we send deals that are only valid for US residents that people outside of the US like coffee too 🙂
Our particular guide here is focused on coffee subscriptions in the US. However, our international readers will be glad to know that a growing list of coffee subscriptions are available for folks in Canada, the UK, and beyond.
While we're not going to go too deep into subscriptions across the pond, a place like Batch Coffee is a great starting point if you're looking for a UK based subscription.
Single vs. Multiple Roaster Coffee Subscription
There are many different roasters out there that will send you their coffee directly without having to go through a middleman. Single Roaster Coffee Subscriptions means you get your coffee directly from the roaster of your choice and in many cases you can decide how often you receive deliveries from them.
Often, single roasters will still curate beans from a variety of different locations across the world – meaning you still get a ton of flavor variety, consistently roasted from a place you trust.
If you want a sampling from multiple independent coffee roasters all at once, then a multiple roaster is the coffee subscription for you.
There are many small roasters that have popped up all over the country and many are too small to operate their own subscription service. So they've partnered with companies that offer coffee subscriptions and pull from this pool of smaller roasters.
With a Multiple Roaster Coffee Subscription, you'll often be able to choose from many different roasters and experiment with new, small-batch roasts. Like the Single Roaster option, most of these subscriptions will allow you to customize when you get the coffee and how much you get in each delivery.
Honorable Mentions
We've spent a lot of time unboxing and testing our top choices for best coffee subscription, but the options certainly don't stop there.
If you haven't found your perfect coffee club just yet, here are a few other options worth checking out:
Counter Culture was originally founded in 1995 and was one of the early leaders in the specialty coffee movement. Today, they focus on sustainability and quality and offer several different roasts that you can choose from. They have several different subscription plans available, but their most popular is the single-origin subscription, which gets you two 12 oz. bags of coffee with each shipment. With this coffee subscription you can have your coffee delivered to your door every one, two, three or four weeks.
Based out of Portland, this well-renowned roaster offers a slightly different take from others on the coffee subscription. Every two weeks you'll get a rotating selection of coffee. And you can always order more of whatever type of coffee you enjoyed the most.
This is a great way to stock up your coffee supply while trying new coffees you might not have even considered before. If you want to expand your coffee-tasting horizons, this could be the coffee subscription for you.
Out of all the coffee subscription services I've tried, these guys did it the best! Not only do they know how to source really great coffee from some of the best roasters, their packaging design was top-notch. As a designer myself, I was highly impressed. Their coffees are all single origin. It's a signal that they truly care about great coffee by supporting the farmers who grow the beans and the roasters.
Another bonus for me was based on nostalgia. I used to exclusively buy One Village Coffee in Philadelphia, but now I live in Boulder, Colorado. Crema has now made it possible for me to enjoy my favorite coffee from the east coast. I highly recommend them!
Bottomless Coffee
Imagine coffee that never runs out…
That's the problem Bottomless Coffee is trying to solve with their smart scale. Rather than put you on a schedule of getting coffee delivered every week, month, or any other set increment, they send you a smart scale with your first order and then use that to ship coffee when you're running low.
The only downside is that in order for it to work, you do need to keep your coffee stored on their scale – which may or may not be a problem for you.
As for the coffee, you build up a rotation of styles you like and they'll deliver coffee from their list of 500-ish local roasters – so you're never short on options. Rate coffees as you go, and they'll recommend similar coffees you might like based on your preferences – kind of like Netflix does for movies.
Click here to see our full Bottomless Coffee Review.
Here's our video where we tested out Bottomless Coffee's subscription box:
Ready to try it for yourself? Click here to get started.
A startup from Vermont, our friends at Brothers Coffee Company select a new roaster each month that has found a new and innovative way of facing a challenge the coffee industry faces. Not only will you get fresh, top-tier specialty coffee, you'll also help enact real change around the world. Along with the coffee, subscribers receive information on the roasters, their coffee, and why they were selected for the month, making every month a new story.
They also donate $1 per subscription to Grounds for Health, a non-profit that screens and treats women for cervical cancer. If you love coffee and want to make sure your money is being used well, Brothers Coffee is the subscription for you.
Get 15% off your first month when you use coupon code "ROASTY" at checkout.
If you want to try a variety of coffee that's customized to your taste, you can't go wrong with Craft Coffee. When you sign up, you'll be asked how much coffee you drink at home, what type of coffee you drink and who your favorite roasters are. Based on these choices, you'll be matched up three different roasters each month that will deliver their coffee to your door. Some roasters may be familiar to you, while others won't. If you love to experiment and broaden your horizons, Craft Coffee is a great option.
Check out our full review here!
Use code 27k-vpl at checkout and get 15% off your first box. Click here to get started.
Black Oak Coffee Roasters
Black Oak Coffee has a cafe in Ukiah, California – but there's good news for those of you who don't have an upcoming trip planned to Ukiah… they deliver.
Yes, the award-winning roasting team at Black Oak has a monthly subscription where they curate interesting coffees from around the globe and roast them in house, and ship straight to you. If you like mixing it up and trying new things, this is an excellent choice.
Jon and the team sent us some free samples to try (pictured below) and I absolutely loved both of them.
Formerly a multi-roaster subscription, Moustache is now roasting everything in-house to maximize freshness. In fact, they go from beans in the roaster to a box in the mail within about 5 hours – which is pretty darn impressive. Another thing we like about Moustache is that they are working top-notch importers and sourcing over 70 different kinds of coffee so you could join the weekly plan and never get the same coffee twice in a year. That's a sampler's paradise!
Try It For Free
Simply click this link
and then join the club, choosing the free trial option on the next page.
Wrapping Up
All of these coffee services give you plenty of choices and regularly deliver high-quality coffee to your door. While a coffee subscription may not completely replace your coffee supply, it's a fantastic way to branch out and try new roasts and beans. And coffee subscriptions are a great way to supplement your supply so you never run out ever again.
With all of these wonderful coffee subscription services to choose from, how exactly are you supposed to pick the best one?
Try Our Favorite Coffee Subscription:
Get 50% off your first box of Atlas Coffee and see for what you think.
Click here to get started.
It all comes down to your personal preferences. If, for example, you know exactly what you like, then one of the more limited services may be right for you. But if you like to experiment, you may want to choose services that send you different coffee every month or have many different roasters to choose from.
These subscription coffee services also have different price points and some charge for shipping while others ship for free. Depending on how much coffee you drink, you may want to do some quick calculations and come up with a coffee budget before choosing from the different services that are out there.
In the end, in our opinion, it really comes down to taste. We love trying out different subscriptions while searching for good coffee. It's easy enough to try a coffee subscription for a few months before and switching to a new company if you want to change things up. When you find one that you really like, settle in with them for the long haul and get ready to enjoy all that wonderful coffee goodness delivered straight to your door.
You won't regret it!