Early mornings call for super-sized cups of coffee. On those days, we're grateful for Starbucks Coffee's Trenta cups. These extra-large servings of caffeine come in clutch when the large — Venti, as Starbies calls it — won't quite cut it.
However, the Trenta drink experience comes with a few limitations. We'll unpack those below. Plus, we'll give you a complete list of drinks suitable for the Trenta cup, offer a few suggestions for ordering a Trenta treat, and compare it to Starbucks's other drink-size options.
How Big Is a Trenta Drink at Starbucks?
The Trenta is the largest of Starbucks Coffee's cup size options, measuring 31 ounces.
For context, Starbucks's other available drink sizes are:
Short (8 ounces)
Tall (12 ounces)
Grande (16 ounces)
Venti Hot (20 ounces)
Venti Cold (24 ounces)
What Drinks Can You Trenta-Size at Starbucks?
Sorry, hot drink enthusiasts. Starbucks Trenta cups are only for iced beverages. Unfortunately, those iced beverages can't contain any espresso. So, you can't order 31 ounces of your favorite iced latte, iced mocha, or whatever other iced espresso drink you love. We know – it's a bummer.
Enough about what you can't Trenta-size. What drinks can you order in this size?
Starbucks Refreshers beverages
Iced tea
Roasty Roundup: 10 of Our Favorite Trenta Starbucks Drinks
Meet a few of our favorite Trenta cup drinks.
Iced Coffee
First up is iced coffee, the perfect drink for anyone who wants their caffeine kick without frills.
The highly refreshing drink is worth mentioning because of its versatility. The default recipe is cold coffee sweetened by a few pumps of Starbucks classic syrup, leaving customers plenty of room to experiment.
Customize the contents of your cup with a splash of milk, vanilla syrup, liquid cane sugar, or cold foam. Or ditch the add-ins altogether and savor every sip of black coffee flavor. Whatever size you order, Starbucks Iced Coffee lets you fill your cup with whatever makes you and your taste buds happy.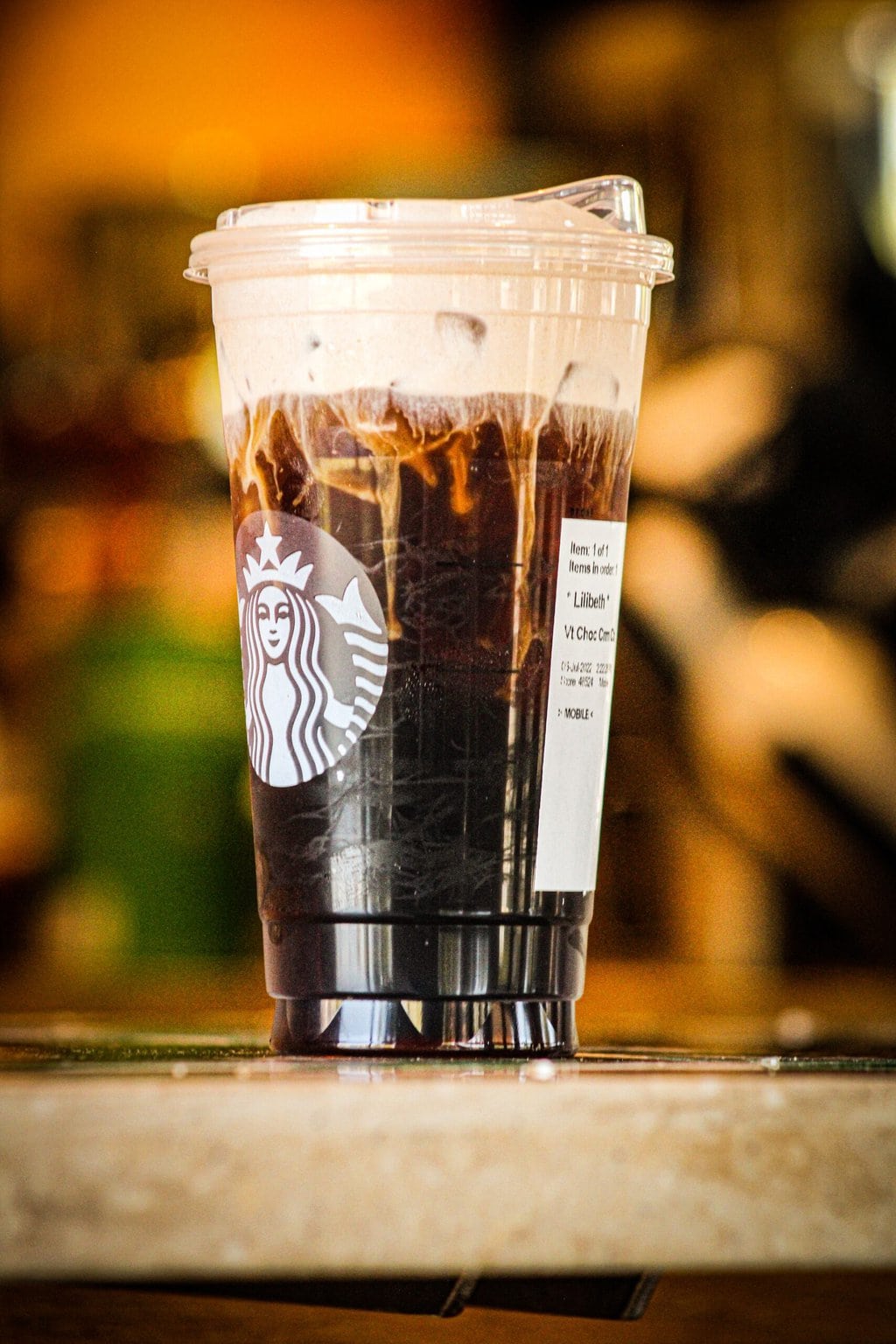 Iced Green Tea Lemonade
Our next Trenta drink option is Starbucks's Iced Green Tea Lemonade. The iced tea is a solid choice when you want a break from the coffee taste of your typical latte but still want a slight caffeine kick.
Starbucks green tea has notes of lemongrass, mint, and lemon verbena that blend beautifully with the sweet yet subtly tart flavor of lemonade. For extra sweetness, ask the barista to add a few pumps of syrup — liquid cane sugar and honey blend are our top choices here — into the mix. –
Pink Drink Refresher
Did you know the Pink Drink began as a secret menu item? The iced drink didn't take long to gain popularity among Starbucks customers. So, the company's decision-makers added it to the everyday lineup.
Made with Starbucks strawberry acai base, creamy coconut milk, and a scoop of yummy freeze-dried strawberries, the Pink Drink is the favorite summertime drink of many — some of us at Roasty included. But don't let the season keep you from picking one up; you can order it in the largest cup size anytime the craving for it strikes.
By the way, the Pink Drink has caffeine, courtesy of the green coffee extract it contains. A Trenta cup contains around 90 milligrams of caffeine. That's about as much as an eight-ounce cup of coffee.
Dragon Drink Refresher
If you're searching for a Starbucks Refreshers beverage packed with tropical flavor, look no further than the Dragon Drink.
Freeze-dried dragonfruit pieces and mango dragonfruit Refreshers base give the concoction all of the island vibes, and a splash of coconut milk adds to the tropical pick-me-up drink's vacation feel. A Trenta-sized serving is just what you need to keep you going when you dream of sand and surf while stuck in your cubicle.
Strawberry Acai Lemonade Refresher
If ever there was an appropriately named Starbucks item, it would be the Strawberry Acai Lemonade Refresher. Served over ice, strawberry acai Refresher base, freeze-dried strawberries, and lemonade is an undoubtedly refreshing combination.
Trenta-sized cups of the fruity beverage contain around 90 milligrams of caffeine. It's not just refreshing; it's an energizing drink, too!
Pumpkin Cream Cold Brew
Pumpkin forever! Well, as long as you only count "forever" as August through November, when Starbucks Coffee has its pumpkin tea and coffee drinks available for purchase. One of these batches of pumpkin-y goodness comes in the form of the pumpkin cream cold brew, which has been a fall menu favorite for five years and counting.
The delightful drink — a blend of cold brew and vanilla syrup topped with pumpkin-infused foam and pumpkin spice topping — tastes great no matter what size cup it's in, from Tall to Trenta. No wonder people eagerly await its return every year.
Iced Passion Tango Tea
If you're passionate about fruity drinks, head to Starbucks for an Iced Passion Tango Tea. The tea and its hibiscus, lemongrass, and apple flavors have zero milligrams of caffeine per cup. Even after downing 31 ounces during the late afternoon or evening hours, you won't have to worry about the Passion Tango treat interfering with your sleep.
If you like Iced Passion Tango Tea, try it with a splash of lemonade. Iced Passion Tango Tea Lemonade has the same fruity taste as its non-lemony counterpart, but the added citrus flavor gives it a little something extra.
Vanilla Sweet Cream Cold Brew
Vanilla Sweet Cream Cold Brew is one of our favorite cool coffee drinks at Starbucks. A layer of house-made vanilla-flavored cold foam subtly satisfies your sweet tooth, while a slow-steeped cold brew provides the caffeine kick you crave.
But be careful ordering this or any other cold brew beverage in a 31-ounce Trenta cup. Cold brew can be intense for people sensitive to caffeine's effects. If that's you, ordering it in Starbucks's largest size is probably unwise.
Salted Caramel Cream Cold Brew
The bad news is you can't order a 31-ounce Starbucks Caramel Macchiato; the company excludes espresso-based drinks from the Trenta lineup. But there's good news! You can get your caramel fix at this drink size with a Salted Caramel Cream Cold Brew.
Baristas make this caramel drink by sweetening the store's signature cold brew with a few pumps of vanilla syrup. They then top it with a dollop of salted caramel-flavored foam that spreads throughout the cup as you sip. Your coffee gets infused with sweet caramel flavors — so good!
Iced Peach Green Tea
Last but certainly not least is the Starbucks Coffee Iced Peach Green Tea. There are many impressive benefits linked to green tea consumption, like mental alertness and stroke prevention. Those, plus its pleasantly earthy taste, are probably why Starbucks has so many green tea options.
Iced Peach Green Tea is one of them, and it's among the items customers can order in a Trenta cup. A combination of green tea and peach juice blend, the delicious drink offers cool refreshment and a decent caffeine dose.
Frequently Asked Questions
Let's dig deeper into this indulgent drink size by answering a few frequently asked Trenta-related questions.
Is There a Starbucks Size Bigger Than a Trenta?
Nope. The Starbucks Trenta cup is king of the international chain's drink sizes.
How Many Shots of Espresso Are in a Trenta?
There are zero espresso shots in a drink this size since Starbucks Trenta drinks exclude espresso-based beverages, presumably because the amount of spro necessary to make a Trenta drink exceeds the daily recommended caffeine content. Understandably, Starbucks would rather be safe than sorry.
Can You Get a Trenta With Your Birthday Drink?
If your chosen birthday item is eligible for Starbucks's Big Gulp-sized cup — that means no espresso drinks, Frappuccinos, or hot beverages — you may order a Trenta.
However, you'll need to check and see if your nearest Starbucks location carries Trenta cups. It isn't the most popular drink size, so not all the green mermaid-logoed stores offer it.
Is a Trenta Too Much Coffee?
We'd love to tell fellow coffee lovers there's no such thing as too much of the beverage, but its caffeine levels beg to differ. But does the biggest size at Starbucks fall into the "too much" category? That answer varies from one individual to another, depending on factors like
How large a dose of caffeine you've already consumed, and how much more you'll have later
Your selected beverage's caffeine levels
How your body reacts to caffeine
The general rule of thumb for the average adult is to have no more than 400 milligrams of caffeine daily. A Trenta cold brew only has about 360 milligrams of caffeine, so that isn't too much as long as the rest of your food and drinks keep you under the 400-milligram mark for the day.
But remember, some people are more sensitive to caffeine than others and experience unpleasant side effects from the stimulant, even if they're well under the recommended daily amount. The energy boost a Trenta beverage provides might be too much for them.
Can You Get a Frappuccino in a Trenta?
Bad news for those who call a Frappuccino their favorite drink: you can't get a Trenta-sized serving of the Starbucks blended drink.
Some baristas bend the rules and make them for customers anyway, ringing them up as two Grande drinks. But the company discourages this, so keep your local Starbucks employees out of trouble by sticking with a Venti.
Try a Trenta
While we don't necessarily suggest Trenta-sizing caffeinated drinks every day, we think it's OK to splurge on an extra-large serving of your favorite (non-espresso) iced Starbucks drink every once in a while.
Before you order, check to see if your Starbucks location keeps these cups in stock. While many stores offer them to customers, others don't.
Happy Caffeinating!