Let's take a stroll down memory lane.
Don't worry. We aren't asking you to dig up your high school yearbook or relive the uber-embarrassing moments you're still fighting to forget. Instead, we want to look at Starbucks Coffee's past with you and reminisce about some of the cherished franchise's discontinued drinks.
Why Does Starbucks Discontinue Drinks?
The short answer is that nothing lasts forever.
The long answer is, "It depends." Poor sales are often to blame when the good folks at Starbucks announce a discontinuation. But not getting enough hype from customers isn't the only reason the company might eliminate a product. Starbucks might cut a food or drink option from the menu to make room for new items or simplify product offerings.
Roasty Roundup: Our Favorite Discontinued Starbucks Drinks
Consider Roasty the Ghost of Starbucks Drinks Past. We're showing you some of the drinks the Seattle-born coffee giant used to offer customers.
Cool Lime Refresher
Many of us at Roasty vividly remember the Cool Lime Refresher. Like thousands of others, we lamented for weeks when the international coffee chain removed the citrusy iced drink from U.S. stores' menus in 2018. And if we're being honest, we haven't fully recovered from the loss.
Made by combining citrus fruit juice, lime Refresher base, mint, and freeze-dried lime slices, this iced beverage was the perfect way to cool off on a sweltering afternoon. We aren't sure why Starbucks took this fan-favorite drink away from American customers. But we're still hoping that one day, it'll make a triumphant return.
Valencia Orange Refresher
The discontinuation of the Valencia Orange Refresher was another heartbreaking loss for Starbucks lovers. This Refresher contained green coffee extract, orange and clementine juices, and a naval orange slice — think summertime in drink form.
Starbucks debuted the lightly caffeinated, orangey treat in 2013 and discontinued it two years later. When customers learned of its retirement, they were less than pleased. More than 2,000 people petitioned to bring the icy drink back, but we're willing to bet even more miss it.
Eggnog Latte
The bad news is that, after a 35-year tenure, Starbucks retired the Eggnog Latte in 2021. It was one of the most beloved drinks on the company's winter seasonal menu, with many customers saying the holidays aren't as merry without them. No, we're not exaggerating; people seriously loved the handcrafted latte. See the petition to bring it back and numerous Reddit threads dedicated to it for proof.
The good news is that Roasty has a decent copycat recipe for you to follow. No, it won't taste exactly like the one from the famous coffee chain, but it's yummy enough to fill the Eggnog Latte-shaped hole in your heart.
Unicorn Frappuccino
If there were a vote for "Most Instagrammable Starbucks Drink," the Unicorn Frappuccino would be the unanimous winner. A photo of the crème-based beverage — made with mango syrup, a sour blue drizzle, vanilla whipped cream, and blue and pink powder topping — guaranteed likes every time.
And here's the best part: it changed colors! When the barista handed you the magically delicious beverage, it had a purple tone and a sweet, fruity taste. But when you stirred it, it turned pink; tangy, tart flavors danced on your taste buds. People still rave about how yummy the Unicorn Frappuccino was, but we're betting it still would've been successful even if it didn't taste good. Ads declaring, "This drink changes color," would've been enough to draw interest. And why wouldn't they be? Everyone loves a fun and colorful drink experience.
Cascara Latte
The Starbucks Cascara Latte first became a menu item in 2017. And though the coffeehouse's customers knew they shouldn't get too attached — it was a limited-edition menu item — they did anyway.
Cascara means "husk" or "shell" in Spanish, which makes sense given the syrup used to sweeten this latte came from the coffee cherry's outer skin. The creamy, foamy treat boasted a hibiscus-like scent and dark brown sugar and maple flavor notes.
Chile Mocha
The Chile Mocha debuted on the 2016 Starbucks fall menu, breaking up all the pumpkin flavors with some heat. The drink, available to U.S. and Canadian customers, featured the green mermaid's signature espresso, cocoa-and-cinnamon-infused steamed milk, a dollop of whipped cream, and a sprinkle of Chile Mocha topping — that's ancho and cayenne chile pepper, cinnamon, paprika, sugar, and sea salt.
The Chile Mocha captured the hearts of plenty of Starbucks customers, but their devotion wasn't enough to keep it around. When the fall 2017 menu dropped, the CM was notably absent. Starbucks lovers haven't seen it since.
Cherries Jubilee Mocha
We won't lie. We didn't know the Cherries Jubilee Mocha existed. But after doing some digging, we figured out why: it was only available at select locations as a sort of test run to see how well it would do among customers. But apparently, it didn't do as well as the good folks at Starbies wanted; it never made it onto any menu, seasonal or regular.
You'd find espresso, mocha sauce, steamed milk, cherry syrup, cocoa powder, whipped cream, and a cherry drizzle in this drink. The mocha latte's inspiration stemmed from the dessert with which it shares a name, cherries jubilee.
Granitas
Once upon a time, iced coffees or teas, Frappuccinos, and Refreshers weren't the only cool Starbucks drinks to order to beat the heat. A line of shaved ice beverages called Granitas appeared at the café chain in the summer of 2016. Customers could order one of three flavors: Caramel Espresso, Teavana Youthberry White Tea, or Strawberry Lemon Limeade.
These were part of Starbucks's Sunset Menu, meaning they were only available after 3:00 p.m. But neither Granitas nor the other Sunset Menu items, Starbucks Trifles, lasted long. The company retired them a few weeks after their debut, stating they weren't popular enough to keep around.
Oprah Chai
Everyone knows who Oprah Winfrey is. But what everyone might not know is that she, the Queen of All Media, loves tea, especially chai. So, she partnered with Starbucks in 2014 to create Teavana Oprah Chai. Lady O's tea blend featured black and rooibos teas, cinnamon, ginger, cardamom, and cloves. For each Oprah Chai product sold — customers could buy it in a handcrafted latte or brewed tea form — Starbucks donated to the Oprah Winfrey Leadership Academy Foundation.
By 2017, Starbucks discontinued both loose-leaf and concentrated Oprah chai. However, customers can drink something similar by adding cinnamon dolce flavor to the coffeehouse's plain chai.
Very Berry Hibiscus Refresher
The Very Berry Hibiscus Refresher debuted at Starbucks in 2012 alongside the also-discontinued Cool Lime Refresher. The combination of Berry Refreshers base, water, freeze-dried blackberries, and ice offered customers cool refreshment and a slight energy boost, courtesy of the 45 milligrams* of caffeine it contained.
Despite having thousands of Starbucks fans who claimed to love it and order it often — one Change petition signer said the drink was the only reason they stepped foot in the store — the Very Berry Hibiscus Refresher became unavailable for purchase in late 2021.
*This caffeine content is based on a grande-sized, or 16-ounce, serving.
Maple Pecan Latte
Starbucks brought the Maple Pecan Latte onboard in 2017 to join the almighty PSL on the autumn menu. Fans of pecans and maple syrup were probably thrilled to see this drink's debut, eager to try the blend of espresso, milk, maple pecan sauce, and autumn sugar topping in a hot, iced, or Frappuccino beverage.
The Maple Pecan Latte hung around for a couple of years. However, due to declining sales, Starbucks eventually pulled it from the fall lineup. However, the company didn't get rid of Maple Pecan coffee entirely. You can buy Starbucks Maple Pecan-flavored coffee beans to run through your home coffee maker. The resulting brew doesn't taste like the sweet, rich latte, but it has a cozy and comforting aroma that's just right for fall.
Gingerbread Latte
The Starbucks Gingerbread Latte's first appearance was in 2000, and in its 19 years in the winter seasonal beverage lineup, it became a holiday menu staple. That's why so many Starbucks goers were shocked to see it go. The latte gave all the flavors of the iconic Christmas cookie with no baking required. Thanks to the company's gingerbread-flavored syrup, spicy-sweet flavors of nutmeg and ginger filled each sip.
Starbucks's discontinuing this coffee beverage bummed gingerbread latte lovers everywhere. But fortunately, there are other ways for them to satisfy their gingerbread cravings. At-home baristas can try one of the many gingerbread latte recipes floating around the internet; we know you didn't ask which is best, but we're very fond of ours…
Iced Blueberry Black Tea
The Iced Blueberry Black Tea delivered a load of fruity flavor to Starbucks customers who prefer getting their caffeine kick from tea rather than espresso. The recipe was simple: ice, black tea, blueberry-flavored juice blend, and liquid cane sugar.
Starbucks discontinued its blueberry flavoring in 2019. That meant customers not only had to say goodbye to this drink and its cousin, the Iced Blueberry Black Tea Lemonade. They also had to bid farewell to the Blueberry Acai Refresher and secret menu treats like the Blueberry Muffin Frappuccino.
S'mores Frappuccino
The next beverage on our list of discontinued Starbucks drinks was inspired by an iconic dessert: the classic s'more! Baristas assembled this drink by blending milk with marshmallow-infused whipped cream, milk chocolate sauce, Frappuccino coffee, and vanilla syrup. Then, they finished the sweet treat with a generous helping of extra marshmallow whipped cream and crumbly graham cracker topping. So good, and so sorely missed!
Salted Caramel Mocha
There's something to say about how beautifully a bit of salt complements sweet caramel. And when you put the duo into coffee with chocolate? Well, things only get better! That's why the Starbucks Salted Caramel Mocha worked so well.
The combination of toffee nut syrup, mocha sauce, espresso, and milk topped with caramel drizzle, turbinado sugar, and sea salt provided a pleasantly sweet sipping experience. The flavor combination was perfect for fall, which is why the famed coffee franchise included the Salted Caramel Mocha in the autumn seasonal lineup from 2013 to 2021.
But don't fret, Salted Caramel Mocha lovers. You can still order something similar if your local Starbucks has toffee nut syrup in stock. Ask for a mocha with toffee nut syrup, whipped cream, and caramel sauce drizzled on top. You'll have to do without the salt and turbinado sugar topping, but beyond that, the beverage tastes similar.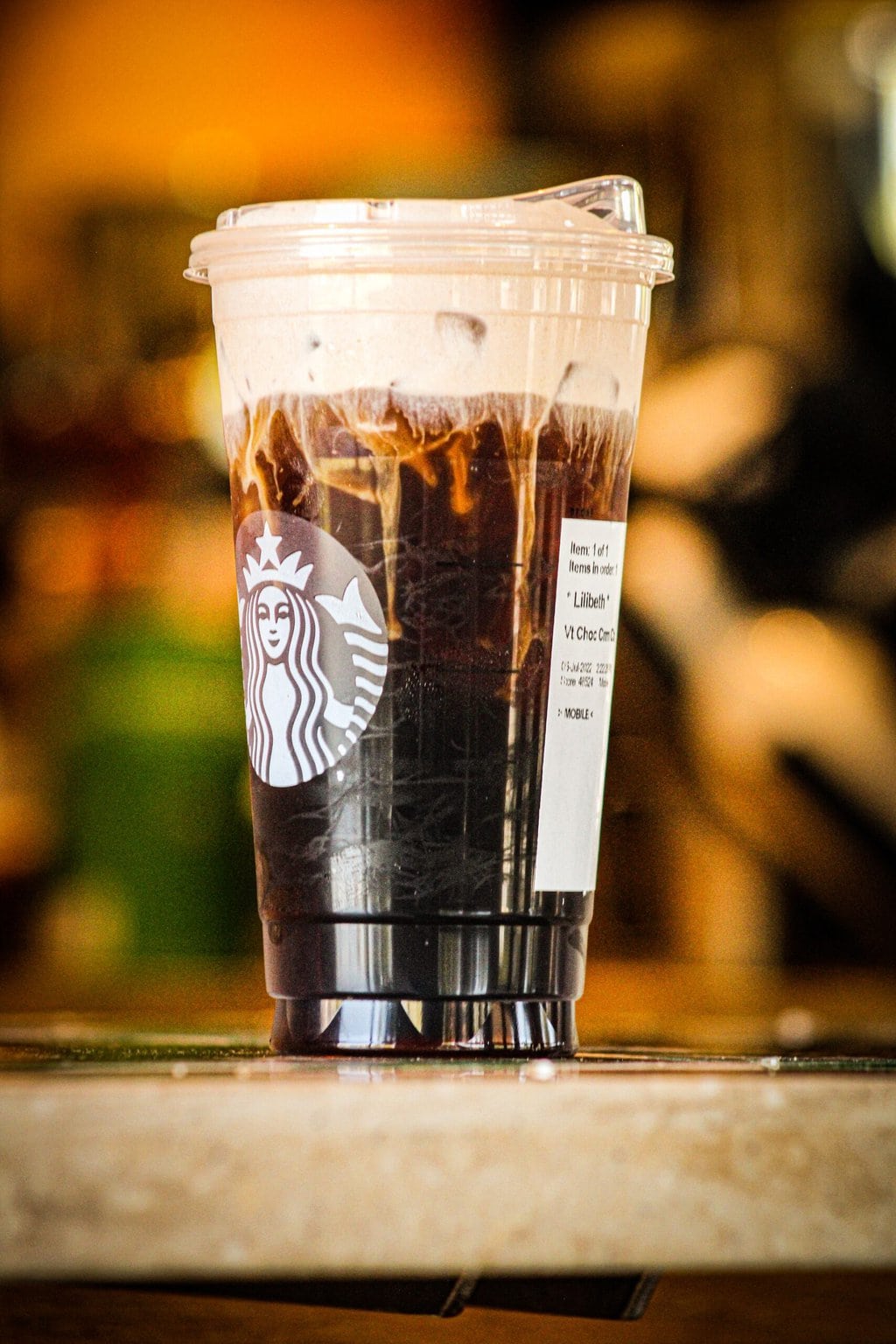 Iced Guava Black Tea
"Not to be dramatic, but I won't survive without [the iced guava black tea]," one Redditor wrote. You'd think, given that lives seemed to be at stake, Starbucks would keep the refreshing pick-me-up around. However, the company discontinued it a few years ago anyway.
Baristas made the beverage by combining black tea with a guava-flavored juice blend. The result was a lightly caffeinated but fully delicious fruity tea.
Chantico
Starbucks has had its fair share of successful drinks — including the king of caffeinated fall drinks, the PSL, which is still going strong 20 years after its debut. But the popular franchise has had a few flops over the years, and many consider the Chantico as one of them.
The Chantico launched in January 2005, and the super-rich drink was described as a grown-up hot chocolate or drinkable dessert. And while the original recipe was delicious, some thought it a little too sweet. Besides, it wasn't customizable. While other Starbucks menu items let customers choose different kinds of milk, flavored syrups, or cup sizes, the Chantico did not; it was the original recipe or bust. And ultimately, that lack of customization left customers so dissatisfied that Starbucks scrapped the chocolatey drink altogether.
Iced White Tea
Iced white tea disappeared from the Starbucks menu at the end of 2020, as customer demand for it was no longer what it once was.
The company's white tea was more delicate than its black and green counterparts. While some Starbucks customers loved sipping it with a few pumps of liquid cane sugar, others mixed a splash of lemonade into it. The added citrus gave the tea some extra zing without overwhelming its light flavors.
Teavana Shaken Berry Sangria Herbal Tea
If sangria is your chosen alcoholic beverage, you were probably a fan of the Starbucks Shaken Berry Sangria Herbal Tea. The fruity drink debuted in the summer of 2016 to celebrate fruits that reach peak flavor during the warmer months and give customers something refreshing to sip.
Starbucks modeled its recipe after the classic fruit-and-wine drink. Baristas blended Iced Passion Tango Tea with sangria syrup. Then, they shook the mixture with blackberries, orange slices, apple juice, and ice.
Strawberry Shortcake Frappuccino
Starbucks unveiled the Strawberry Shortcake Frappuccino at the end of August 2015 as part of the "Last Sip of Summer" promotion. This blended beverage was creme-based, meaning it was coffee- and caffeine-free. Making it involved blending strawberries, strawberry juice, vanilla bean, hazelnut syrup, milk, and ice. Topped with a dollop of whipped cream, the Strawberry Shortcake Frappuccino made the perfect after-dinner drink.
Unfortunately, the frapp and the Blackberries and Créme Frappuccino that debuted with it were limited-time offerings. The drinks were only available for about 10 days. Once they were gone, they didn't return.
Mazagran Sparkling Coffee
Last but certainly not least is the Mazagran Sparkling Coffee, a risky endeavor on Starbucks's part that is now, unfortunately, deemed a big failure. A Business Insider article takes it a step further than failure, calling it one of "The Worst Starbucks Product Flops Of All Time."
Starbucks partnered with Pepsi-Cola to launch the coffee-soda hybrid in 1994. The company tested Mazagran in Southern California before introducing it to the rest of the country. Many were wary of it, but others trusted the Starbucks label on the bottle enough to try it. However, most brave souls who bought a bottle only did so once. By 1995, the gently carbonated, coffee-flavored drink was pulled from shelves.
Zombie Frappuccino
The Zombie Frappuccino joined Starbucks Coffee's lineup of beverages for the Halloween season in 2017. The cool drink — and we mean cool figuratively as well as literally — was perfect for the spookiest time of year, thanks to its green hue, caramel apple flavors, and topping of blood and brains (pink whipped cream and red mocha drizzle).
Despite selling well, the limited-edition drink did not return the following October. But that isn't surprising since Starbucks introduces a new Halloween beverage every year.
Frequently Asked Questions
What Did Starbucks Discontinue in 2023?
Starbucks Coffee's most notable discontinuation came in March of this year when the company removed raspberry syrup from the menu. Saying goodbye to this add-in meant bidding farewell to a host of delectable drinks*, including Raspberry Iced Tea, Raspberry Chiffon White Mocha, and Raspberry Lemonade.
*You might not recognize any of these drinks. That's because they are secret menu items, not official Starbucks products.
Did Starbucks Stop Making Refreshers?
Starbucks has removed a few Refreshers from its beverage lineup over the years (Have we mentioned how much we miss the Very Berry Hibiscus Refresher? Because we do. So much.). But a few of these amazing drinks are still available at your local coffeehouse.
Starbucks's current Refresher lineup includes the iconic Pink Drink, a secret menu item so beloved that the company added it to the menu permanently, and the Frozen Mango Dragonfruit Lemonade Refresher, a blended beverage full of mango, dragonfruit, strawberry, and citrus flavors.
What Foods Did Starbucks Discontinue?
Starbucks is a major player in the coffee and tea drink game. However, the company cares about its food offerings just as much as its drink collection. That's why the good folks at Starbucks update the café's nibbles often, discontinuing old items and introducing new ones as needed.
Some of the foods Starbucks has gotten rid of over the years are the Almond Croissant, the Holiday Turkey and Stuffing Sandwich, and the Spicy Chorizo Breakfast Sandwich.
Will Starbucks Bring Any Discontinued Drinks Back?
We don't know if any of Starbucks Coffee's discontinued drinks will ever make a comeback — a major bummer if the good folks at Starbies took away your favorite (we miss you every day, Very Berry Hibiscus Refresher…).
But we don't think it wise to spend too much time longing for what you once sipped; instead, be open to trying new things. Starbucks is always unveiling yummy, innovative drinks. The next one the company releases might be the beverage of your dreams.
Happy Caffeinating!