With Halloween right around the corner, I'm sure you're excited to try all the new fall flavors that coffee shops have to offer. I know I am!
That's why people love getting their spooky drinks from Starbucks, where there is a variety of customizations. It's important to note, though, that Starbucks doesn't actually have a secret menu.
In some past years, Starbucks has briefly put out a surprise Halloween drink here and there, but if you want to get your hands on a fun beverage, you're gonna need to come with a recipe in hand.
Luckily, I have a list of great Halloween drinks and their recipes for you to try on your next trip to Starbucks!
Starbucks Classic Fall Flavors
To start, I figure it's important to mention the drinks that Starbucks does have on its menu. With some fan-favorite classics and a couple of new additions in recent years, Starbucks has a drink for everyone during the fall season.
The Pumpkin Spice Latte
You can't have a fall menu without your standard PSL. That being said, everyone makes their pumpkin spice latte differently. So, if you're interested in getting one of Starbucks' best-selling drinks, I wouldn't blame you.
This fall-flavored latte is made with Starbucks' special pumpkin sauce, espresso, and your preferred milk. In a standard one, made with dairy, the latte also comes with whipped cream and is topped with pumpkin spice powder.
Whether you get this one iced or hot, it's sure to fulfill your seasonal taste buds!
Pumpkin Spice Frappuccino
That's right, you can even get your Pumpkin Spice Latte in a blended form. Did someone say dreams do come true?
In this frappuccino, you get a coffee or creme-based drink with the special pumpkin sauce and your milk of choice all blended together, topped with whipped cream, and the pumpkin spice powder.
Sounds delicious, right? In my opinion, this tasty drink serves itself more as a dessert!
Pumpkin Cream Cold Brew
This yummy drink was first introduced at Starbucks in 2019 and quickly became a fan favorite. Thankfully, they keep bringing it back!
To start, you get a classic cold brew with some vanilla syrup added to it, and this tasty combination is topped with a sweet cream cold foam that's flavored with the popular pumpkin sauce. Not to mention, you even get a dash of the pumpkin spice powder on top!
If you haven't tried this delicious invention, I highly recommend doing so this fall season!
Apple Crisp Macchiato
The newest of Starbucks fall drinks is the Apple Crisp Macchiato, which was released in 2021. This yummy beverage is a great alternative to the classic pumpkin flavors of the season.
Much like the famous Caramel Macchiato that Starbucks sells, the Apple Crisp Macchiato is essentially made as an upside-down latte, with milk on the bottom and espresso on top. They also put some of their apple brown sugar syrup in the mix and a satisfying apple caramel drizzle on top.
If you weren't already craving delicious autumn flavors, I bet you are now!
Spooky Starbucks Drink Recipes
Now that we've covered the essentials, I'm sure you're curious about the fun and inventive Halloween drinks that you can try at Starbucks.
As I mentioned before, there isn't necessarily a secret menu at Starbucks, but there are plenty of customizations you can make to get yourself a spooky little drink!
Vampire Frappuccino
Maybe you're a fan of the fanged mystical beings, or you're just curious about what makes this blended beverage look so bloody. Either way, this fun Halloween drink is one that actually seems pretty delicious!
If you want to try the Vampire Frappuccino, you're going to want to start by ordering a White Mocha Frappuccino. In your customizations, you can say that you would like some mocha on the bottom, and strawberry puree drizzled around the cup and on top of the whipped cream.
Seems pretty simple, but sounds utterly delightful!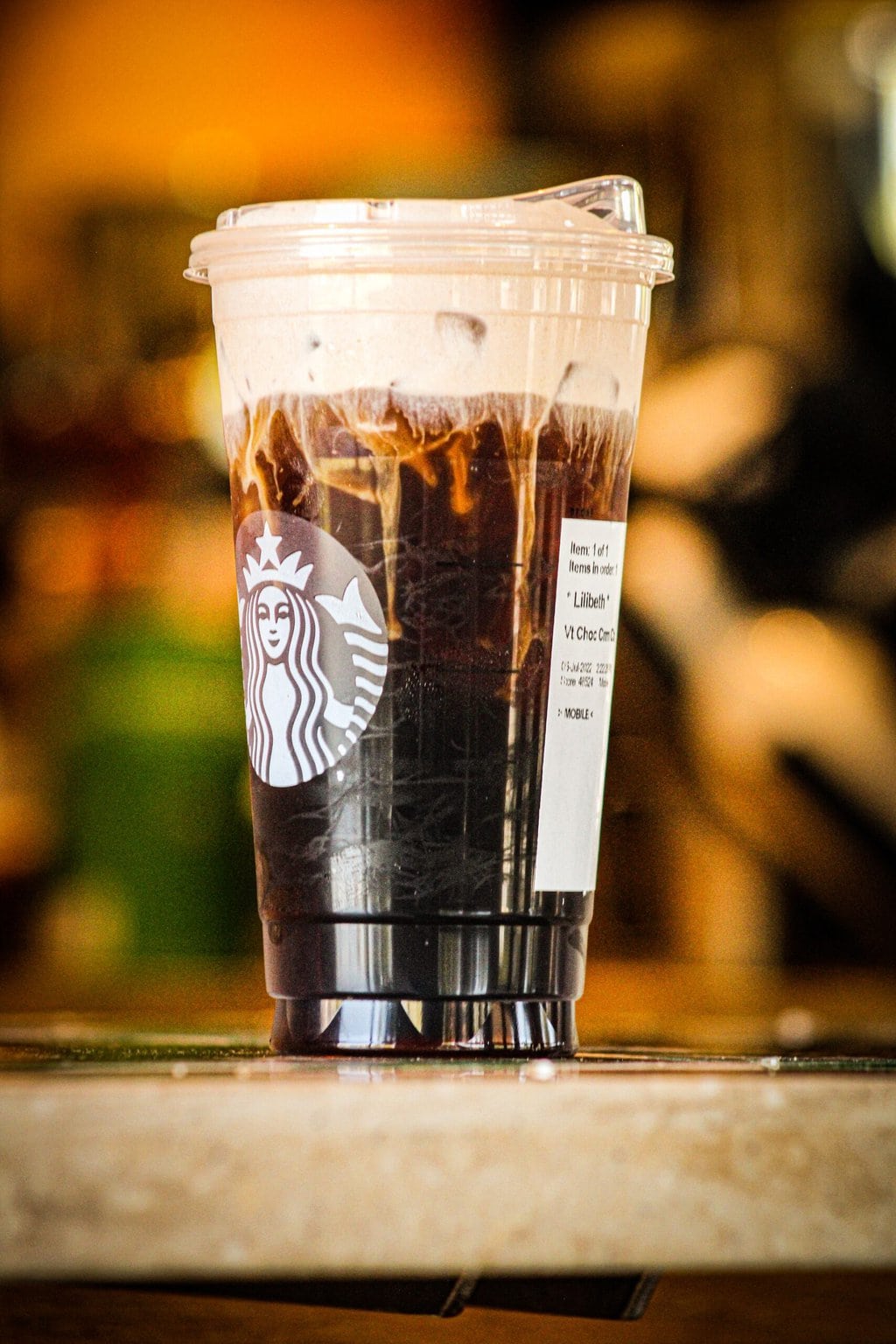 Werewolf Frappuccino
In contrast, you could always go for their mortal enemy, the werewolf. Much like the furry beast, this spooky drink is bound to turn heads.
To order the Werewolf Frappuccino, you want to ask for a Mocha Cookie Crumble Frappuccino. Long name, I know, but you're not done yet!
Next, your customizations will include asking for the mocha drizzle only to be on the bottom, and instead of the cookie crumble topping, ask for strawberry puree on top of the whipped cream.
If this doesn't turn you into a wolf by the end of the day, I don't know what will!
Zombie Frappuccino
Since this Halloween drink was actually released on the Starbucks menu only in 2017, it's definitely one of the more popular ones. Don't worry, there's nothing actually undead in it!
If you're looking to order the Zombie Frappuccino, you can get a Matcha Creme Frappuccino and substitute the classic syrup that's normally in there for the raspberry syrup.
Next, you want to add whipped cream, since these frappuccinos don't typically come with some. On top of that, you can get strawberry puree and dried strawberries.
I think it's a nice supplement for brains!
Frankenstein Frappuccino
Another spooky green-hued option is based on Frankenstein's infamous monster. So, stitch yourself up and go try this yummy blended beverage!
To order the Frankenstein Frappuccino, you can once again get the Matcha Creme Frappuccino. Customize the drink by adding java chips, white mocha, and peppermint syrup (if they have it) to the mix. Finish it off by topping it with whipped cream and mocha drizzle.
This scrumptious treat will definitely be one to reanimate you!
Witch's Brew Frappuccino
This Halloween beverage is another popular choice because it was featured on the Starbucks menu in 2018. And, you're in luck, because there's still a way to achieve the same effect of this witchy sip!
If you want to order the Witch's Brew Frappuccino, you can start with a Vanilla Bean Frappuccino and add dried dragonfruit pieces. People used to get the blackberry pieces, but sadly those have recently been discontinued.
Keep in mind that these pieces don't change the flavor of your drink, they just change the color!
Next, you can add one pump of raspberry syrup and some matcha powder at the bottom of the cup, as well as a sprinkle on top of the whipped cream.
Now that's a spooky drink that makes me want to pull out my cauldron!
Jack-O'-Lantern Frappuccino
For a more traditional Halloween drink, you can always create something using the standard fall flavor of pumpkin spice
To get this fun Jack-o'-Lantern Frappuccino, you can order a Pumpkin Spice Frappuccino and add a scoop of delicious java chips to the mix. Top it off with some mocha drizzle on the whipped cream and you got yourself a treat!
Honestly, I recommend carving out this pumpkin beverage!
Candy Corn Cold Brew
Okay, taking a break from all the blended drinks, there is another traditional take on your next Halloween beverage. This cold brew might just resemble your favorite fall candy!
If you're looking to order the Candy Corn Cold Brew, all you have to ask for is the Pumpkin Cream Cold Brew that we mentioned earlier. Then, you can just substitute white mocha for the vanilla and the pumpkin sauce is already in that delicious foam on top!
This one just might be the easiest Halloween drink suggestion I have for Starbucks, but it definitely satisfies the sweet tooth!
Halloween Drinks at Starbucks for Your Favorite Halloween Characters
The next few drink recipes I have all resemble some popular Halloween characters. You won't want to miss out on trying these fun and spooky beverages!
Wednesday Addams Cold Brew
The other cold brew option we have is centered around the iconic daughter of the Addams family. I don't know about you, but she's definitely a favorite character of mine!
If you want to order the Wednesday Addams Cold Brew, you can simply ask for a regular cold brew and ask to add six pumps of mocha. Then, you can get some sweet cream cold foam on top and ask for a scoop of vanilla bean powder in it.
Not only does this concoction cause a pretty cool design, but it also tastes terribly delicious!
Beetlejuice Frappuccino
Another creepy little fun character that's popular around the Halloween season has to be Beetlejuice. And, to be honest, I think the look of this beverage perfectly matches him!
To order the Beetlejuice Frappuccino, you're going to want to order a Vanilla Bean Frappuccino and have mocha drizzled around the cup. On top of your whipped cream, ask for a bit of matcha powder to match his vibrant hair.
This spooky drink is definitely a hit, even beyond the grave!
Jack Skellington Frappuccino
What's Halloween without a little bit of your favorite nightmarish character, Jack Skellington? This next drink is a perfect combination that meets the aesthetic of this skeleton in many different ways.
If you want to order the Jack Skellington Frappuccino, first order the Pumpkin Spice Frappuccino and add a pump of chai to it. Ask for mocha drizzle around the cup and for a topping of some tasty java chips.
This yummy drink isn't so much fright as it is delight!
Sally Frappuccino
You can't have one without the other. That's why this Sally beverage is the perfect partner to your Jack.
To order the Sally Frappuccino, you want to order a Vanilla Bean Frappuccino with a scoop of matcha powder to the mix. Finish it off by asking for caramel drizzle around the cup, and some strawberry puree and dried strawberries on top of your whipped cream.
I must say that the patchwork of this drink really brings out the characterization!
Winifred Sanderson Frappuccino
Another popular movie around this season has to be Hocus Pocus, and that's why I had to mention these witchy sisters. To start, there's a perfect beverage for the queen herself.
If you want to order the Winifred Sanderson Frappuccino, ask for a Matcha Creme Frappuccino and add one pump of white mocha and one pump of peppermint syrup (if they have it at the time).
Next, get a few dried strawberries on top of your whipped cream to replicate that infamous hair.
This tasty drink is sure to satisfy you for the next 300 years!
Mary Sanderson Frappuccino
In continuing the magical trio, I also want to make note of Mary Sanderson's beautiful beverage.
To order the Mary Sanderson Frappuccino, you want to order the Strawberries and Cream Frappuccino, and add dried strawberries and white mocha. Top it off with some mocha drizzle and it couldn't get any better!
Come little children and try this delicious Halloween drink!
Sarah Sanderson Frappuccino
I couldn't leave without including the third Sanderson sister! So, the final Starbucks drink I want to mention just happens to be another witchy combination.
If you want to order the Sarah Sanderson Frappuccino, you should know that it's not technically a frappuccino. Instead, you can order a blended dragon drink and add some whipped cream on top!
I can't guarantee this will leave you looking forever young, but it will definitely satisfy your cravings!
Come Up With Your Own Starbucks Halloween Drink Combinations
I hope these recipes have piqued your interest in ordering a Halloween-themed drink from Starbucks. If not, I'm sure this leaves you with some ideas on how to create your own concoction!
Since there's so much customization when it comes to Starbucks, there's also an endless amount of creativity. So, go get yourself a spooky drink and have a happy haunting!
Happy Caffeinating!